KNIFE LAWS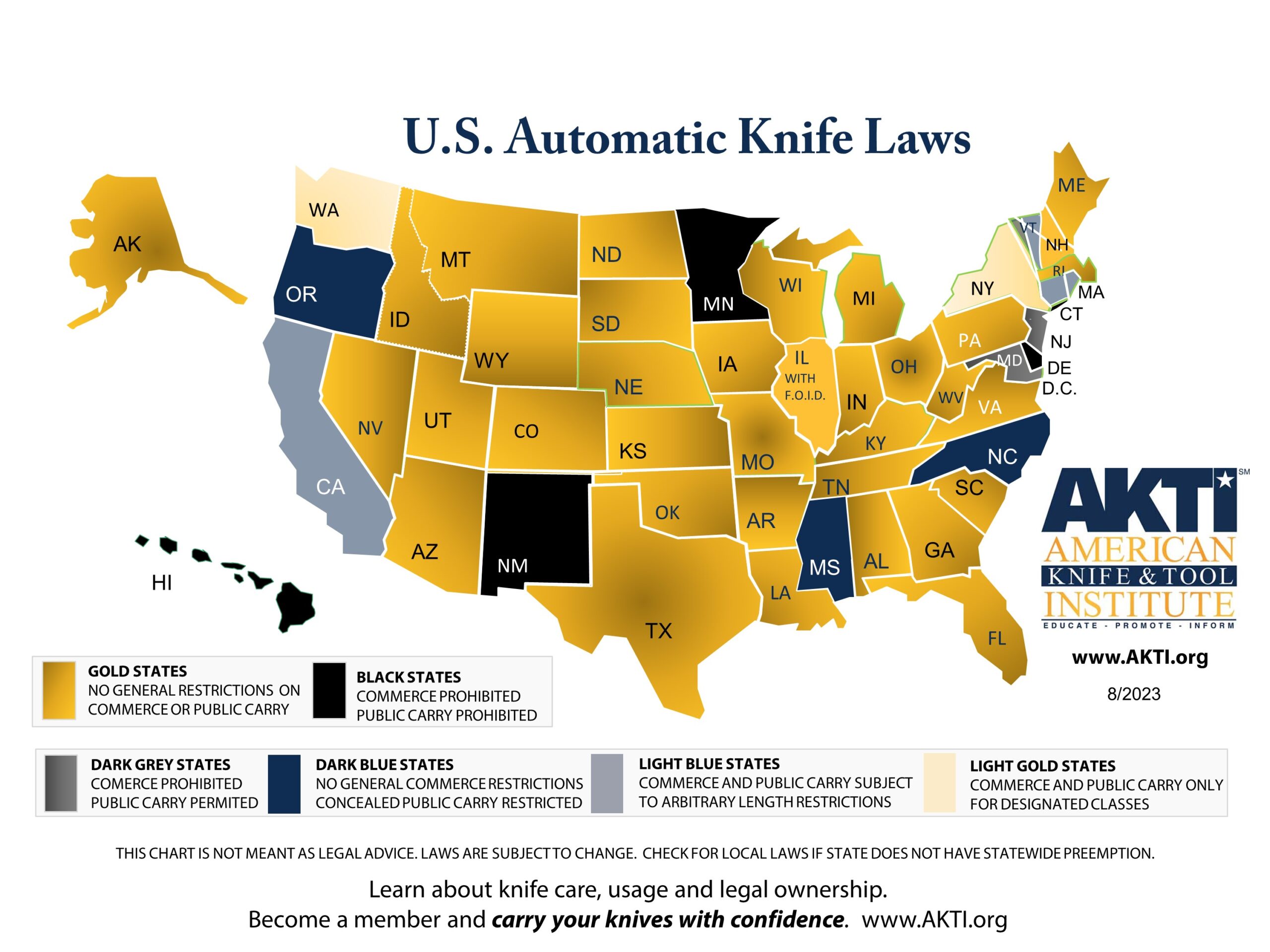 NUMBER ONE CONCERN OR QUESTION IS SHIPPING...
FEDERAL LAW ON AUTOMATIC KNIVES
ITS LEGAL TO SHIP TO LEGAL STATES
Sections 1242 and 1243 of this title shall not apply to—
STATE LAWS:
The following states have restricted laws for automatic knife sales. Some of the following states require Law Enforcement credentials. Some of the states will allow possession of automatic knives within your own residence. Please review your local laws and ordinances. Southern Edges will not be held responsible for any local or state laws affecting your purchase or possession.
* LAW ENFORCEMENT CREDENTIALS ARE ACCEPTABLE IN MOST STATES *
State Regarding Auto-Open Knives
Alabama - Legal
Alaska - Legal
Arizona - Legal
Arkansas - Legal
California (less than 2″ blade length limitation)
Colorado- Legal
Connecticut (maximum 1-1/2″ blade length limitation)
Florida - Legal
Georgia - Legal
Idaho - Legal
Illinois (effective Aug. 11, 2017, with valid Firearms Owner's Identification Card FOID)
Indiana - Legal
Iowa - Legal
Kansas (since 2013) - Legal
Kentucky (only with weapons license)
Louisiana (effective August 1, 2018)
Maine (effective October 15, 2015)
Maryland – can legally possess if not concealed
Massachusetts (maximum 1-1/2″ blade length limitation)
Michigan (effective October 10, 2017) - Legal
Mississippi - Legal
Missouri (since 2012)
Montana (maximum 1-1/2″ blade length limitation – removed 2019)
Nebraska - Legal
Nevada (effective July 1, 2015 – 2″ blade length limitation removed)
New Hampshire (since 2010)
North Dakota - Legal
New York – (exception for hunting, trapping and fishing)
North Carolina  (concealed carry not recommended
North Dakota (maximum 5″ blade length limitation)
Ohio (effective April 12, 2021 – see Ohio Knife Laws)
Oklahoma (effective November 1, 2015)
Oregon - Legal
Pennsylvania- Legal
Rhode Island - Legal
South Carolina - Legal
South Dakota - Legal
Tennessee - Legal
Texas - Legal
Utah - Legal
Vermont (less than 3″ blade length limitation)
Washington (manufacture allowed, limited possession to law enforcement and emergency personnel )
West Virginia (must be 21 years of age)
Wisconsin (effective February 2016) - Legal
Wyoming - Legal
District of Columbia- THIS IS A NO GO ZONE
** YOU ARE RESPONSIBLE FOR OBEYING ALL STATE AND LOCAL LAWS. SOUTHERN EDGES WILL NOT BE HELD RESPONSIBLE FOR YOU NOT FOLLOWING THE LAW...
By purchasing any automatic knife, you (Southern Edges Customer/Buyer) hereby recognize and acknowledge that it is your responsibility as the buyer to ascertain and obey all applicable laws (local, state, federal and international) in regard to the possession or purchase of any item from Southern Tactical LLC, DBA Southern Edges.